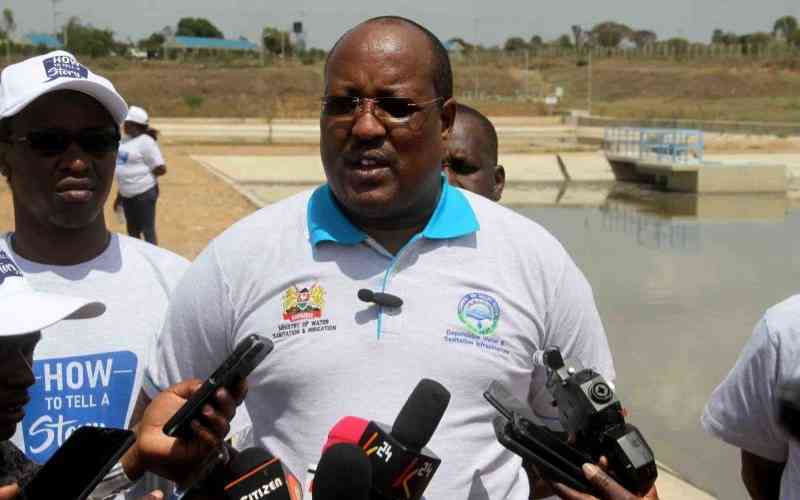 Suspended Central Rift Valley Water Works Development Agency CEO Samuel Oruma brandished a pistol to scare board members as they tried to issue him with his suspension letter, sauce.co.ke has reliably established.
The board members, led by chairman Ndiritu Mathenge had gone to the water agency offices along Prison Road in Nakuru to inform him that they were announcing Douglas Murei as the acting CEO.
Oruma however attempted to block them and brandished a pistol in the process, forcing everyone to scamper for their safety.
The matter was reported to the police and officers from Kaptembwo police station rushed to the offices and disarmed him. He was later taken to the station to record his statement over the scuffle.
Oruma is currently being investigated on graft relating to a Sh1.7 billion procurement of the Longisa-Mulot water project.
"The board took on the matter and on the advice of the government, which is the financier of the projects, has unanimously agreed to send the CEO for a compulsory leave, to allow for investigations into the matter," The agency's board chair told the press in Nakuru.
"We have sent the CEO on compulsory leave. We have not sacked him because everyone deserves a fair hearing and so we will wait for the investigative agency to conclude investigations, so that we can know the next cause of action," he added.
Oruma has been accused of having irregularly and fraudulently approved the change of Specifications from the use of Steel Pipes to the use of Glass Reinforced Pipes (GRP) for the project.
The embattled CEO, according to investigations, approved the pipes despite the concerns that were raised over the GRP pipes which are said to be inferior in terms of quality and much cheaper compared to steel pipes.
On Friday evening, Head of Public Service Felix Koskei asked the board of the agency to suspend Eng. Oruma pending investigations into alleged procurement irregularities.
Dr Koskei in a letter to the chairperson of the board noted that the CEO was still in office despite the gravity of allegations and the quantum of resources under inquiry.
The Bomet–Longisa–Mulot water project will supply water to 216,850 customers in Bomet Central and Chepalungu constituencies and was launched in April 2022 under the China Railway Tenth Engineering Company.
It is funded by the African Development Bank (AfDB) under the Kenya Towns Sustainable Water Supply and Sanitation Programme, with the works being implemented by the Central Rift Valley Water Works Development Agency on behalf of the Lake Victoria South Water Works Development Agency.