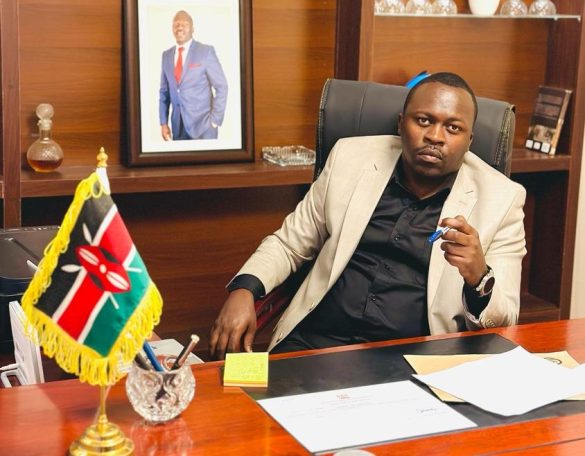 As investigations gather momentum concerning the probe at city hall over the payment of 9 companies, there is one name that has stood out throughout the conversation- Bavon Carson Simba. As you all know City Hall has always been a hotbed of political intrigue and power struggles, but amidst this chaos Mr. Bavon has survived the test of times and served through the previous administrations at city hall up to the current one of Johnson Sakaja.
Although you may not know him, Mr Bavon is a mysterious and influential figure at city hall who is said to have the ear of the current governor Johnson Sakaja as well as powerful forces in government.
Even though little is known about him and the office that he works in at city hall, everybody on the city hall corridors refers to him as "Super PA 047,". Always donning a blue suit and walking with bold strides with his brown suitcase and golden vacheron constantin watch, Mr Bravon is said to be a respected man in the corridors of city hall. So respected is he that even the CECs and Chief Officers at the county revere him whenever he walks into their offices.
Due to the mystery surrounding the role that he plays at city hall, credible sources indicate that Mr Bavon is a government operative deployed at city hall to represent the interests of a powerful group of politicians in government. He is the errand guy and ensures that the interests of powerful government operatives are catered for.
He is said to have played an active role in the concluded elections where he had a close dalliance with the current President William Ruto and he actively campaigned for Nairobi Governor Johnson Sakaja.
The enigmatic figure's association with city hall dates back to the introduction of devolution in Nairobi County, indicating that his influence has spanned multiple administrations and political eras. He is said to have played an active role in the eras of former Nairobi Governors Evans Kidero and Mike Sonko. His longevity and adaptability in a constantly evolving political landscape only add to the intrigue surrounding Bavon Carson Simba.