The ministry warned that the death toll might rise because 20 of the injured were in a critical condition.
Another Palestinian was killed by Israeli fire during a related protest near the West Bank city of Ramallah, it added.
The Israeli military said the Palestinians killed in Jenin were affiliated to militant groups.
Troops had also apprehended some 50 militants during the operation, and seized weapons and ammunition, it added.
On Monday evening, Israel's Prime Minister Benjamin Netanyahu praised its forces for entering what he called the "nest of terrorists" and asserted that they were doing so "with minimal injury to civilians".
"We will continue this action as long as necessary in order to restore quiet and security," he added.
There was a furious response to the operation from the Palestinian Authority Prime Minister, Mohammed Shtayyeh.
"What's going on is an attempt to erase the refugee camp completely and displace the residents," he said.
Neighbouring Jordan said the operation was "a clear violation of international humanitarian law", but the US expressed its support for what it called "Israel's security and right to defend its people against Hamas, Palestinian Islamic Jihad, and other terrorist groups".
Israeli Foreign Minister Eli Cohen said the plan was not to expand the military operation outside Jenin, but already Palestinian protests have reached the Hamas-governed Gaza Strip. And the longer this action goes on in Jenin, the greater the risk of another dangerous, wider escalation.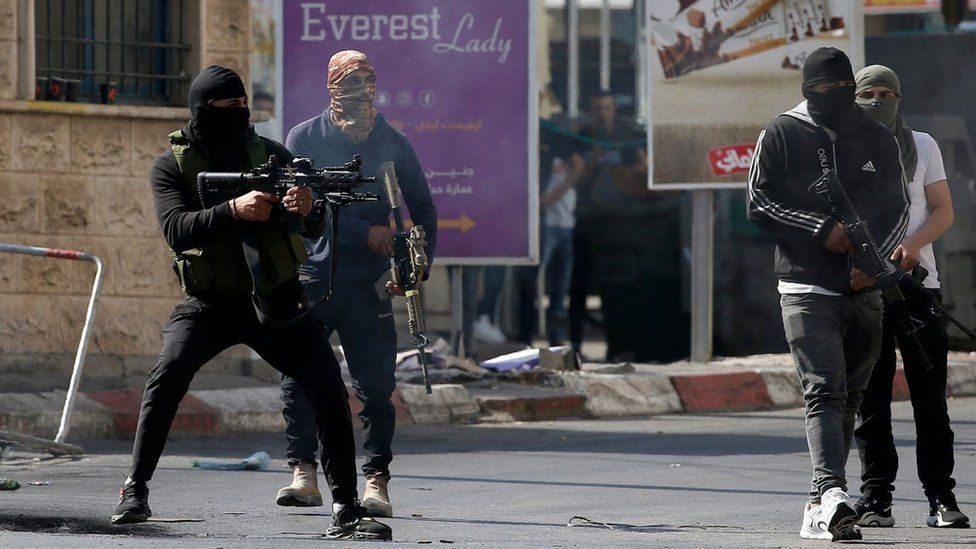 There has been a surge of violence in the West Bank in recent months.
On 20 June, seven Palestinians were killed during an Israeli raid in Jenin which saw the military's first use of an attack helicopter in the West Bank in years.
The next day, two Hamas gunmen shot dead four Israelis near the settlement of Eli, 40km (25 miles) to the south.
A Palestinian man was later shot dead during a rampage by hundreds of settlers in the nearby town of Turmusaya.
That week also saw three Palestinian militants from Jenin killed in a rare Israeli drone strike.
Since the start of the year, more than 140 Palestinians – both militants and civilians – have been killed by Israeli forces or settlers in the occupied West Bank and East Jerusalem, while another 36 have been killed in the Gaza Strip.
Twenty-four Israelis, two foreigners and a Palestinian worker have been killed in attacks or apparent attacks by Palestinians in Israel and the West Bank. All were civilians except one off-duty serving soldier and a member of the Israeli security forces.