Ms June Jerop Kangogo 36, an accountant at the National Industrial Training Authority (Nita) and Masters student at Kenyatta University, went missing on March 19, at around 5 pm.
Forty-eight hours later her lifeless body was found by pedestrians near Jamhuri Primary School.
According to her elder sister Ms Joyce Jepkemoi, Jerop, interacted with her friends on March 19 until around 5 pm when she excused herself to go for a coffee date.
That is the last time her classmates saw her alive.
Police said that when her body was found, it was covered with blood and swollen, a pointer that she may have been stabbed many times or hit by a blunt object.
Preliminary investigations revealed that she was murdered elsewhere and her body dumped by the roadside.
Confirmed that she was killed, detectives have been trying to piece up evidence to determine the motive behind and unravel the circumstances the brutal murder and the killers.
Police have already arrested the deceased's boyfriend Mr Wakukha and his two friends Mr Allan Wafula and Mr Timothy Masika, who are aiding in investigations. The suspects appeared at the Makadara law courts on Wednesday, but the police sought 14 days to complete their investigations before they are charged with murder.
Boyfriend and a Mercedes Benz
Detectives have established from CCTV footage that the boyfriend was the last person she was seen with according to their trail. On March 19 when Ms Jerop left her friends to meet the boyfriend, he picked her from her apartment in South B. Mr Wakukha was driving a Mercedez Benz. They left for unknown destination.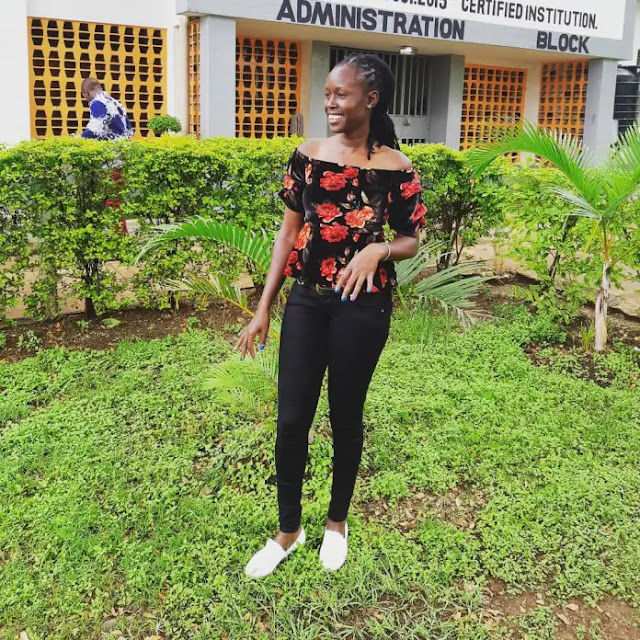 She's also captured at a pharmacy in Imara Daima buying what is assumed to be medicine.
Strangely, the detectives have found that the boyfriend travelled to his rural home Bungoma on the very day March 19 using the very car he had picked her with and stayed there till 24th. To add more to the puzzle, he travelled back to Nairobi using public means leaving the Mercedes Benz behind.
Upon his arrest and interrogation, Mr Wakukha led detectives to Bungoma where they recovered his vehicle, which is believed to have been used to ferry the body to the area near Jamhuri Primary School.
According to Mr Jared Seko, the acting DCI boss Makadara, The Mercedez Benz had traces of blood all over. The blood samples were taken to the government chemist for a DNA test to establish if it matches with that of the deceased.
Was she murdered by the boyfriend? How and why? Could there be more into it than is being told? Were there threats to her life before the murder? These are some of the questions that are leading the investigations as they continue to find the motive.
NITA Saga
Leaving nothing unturned, detectives have questioned and recorded statements from Ms Jerop's colleagues at the National Industrial Training Authority (Nita).
Tge authority has been riddled with graft allegations and the death of the accountant fueled more speculation.
In an anonymous whistleblower letter tipping the ICC into Nita graft, the later claims that there are believable grounds that her death could've been a scheme to coverup the filthy situation in the body and that the detectives need to pursue the links.
"NITA employees are sounding an alarm over the gruesome murder of one, June Kangogo (an accountant on Temporary terms of service [TE]) who was a conduit of siphoning public resources at NITA. It's highly suspected without any iota of doubt that Ms. Kangogo's death is linked to black-money menace which has dominated the public discourse of dealing with NITA. Her death might be part a cover-up because of the most recent arrests by EACC and report on Citizen TV." Reads part of the letter seen by Kenya Insights.
The letter alleges a wide-scale of financial fraud and unethical accounting and procurement practices involved a criminal conspiracy of the following:
o Stephen Ogenga –Director General
o James Nyang'au – Accountant
o Thomas Nakitare – Accountant
o Timothy Nalianya Chetegei– Accountant : TE
o Allan Matete – Accountant : TE (Quit his job under
mysterious circumstances ) and,
o The late June Kangogo – Accountant : TE
"This group devised a scheme of creative accounting, manipulation, trickery and deceit to net for themselves huge amounts of taxpayers' money.
To unravel the fraud and unethical accounting practices at NITA, the letter draws attention to certain areas for and investigations.
It lists, Homecare Management and associated Accredited Trainers, Procurement fraud through Hot-air Supplies, High-Value and obscene imprest advances to June Kangogo that were surrendered fictitiously. The letter also mentions that Mr Jesse Wakukha, the accused boyfriend also transacted with the authority, "Investigate companies associated with Jesse Wakuha in relation to hot- air supplies and God-speed processing of his payments in Finance department." The letter reads.
The letter also alleges that the Accounting Officer/Director General in connivance with the listed accountants promoted an intense regime which injured the financial interests of the Authority through illegal financial activities, criminal misappropriation of public funds, and criminal breach of trust. Another claim is that these accountants' lifestyles were astonishingly above their pay-grades.