Inspector General of police Japhet Koome has addressed the disquiet surrounding reports of the withdrawal of the security detail attached to former President Uhuru Kenyatta.
Speaking to the press in Mombasa on Thursday, February 3, Koome confirmed that the changes were part of a restructuring process within the National Police Service (NPS).
In his explanation, Koome disclosed that he recalled the officer in charge of the former president's security to comply with the regulations of the National Police Service.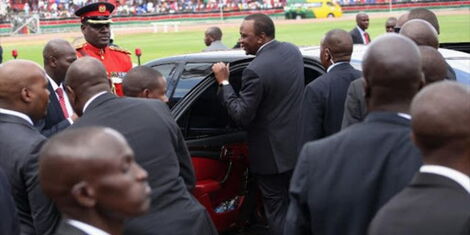 Former President Uhuru Kenyatta surrounded by his security detail at a past national holiday event.
FILE
"Once the president has retired, the commander is a superintendent of police.
"An officer who was of the rank of an assistant Inspector General was with the retired president. So how do you expect an assistant Inspector General to report to another assistant Inspector General," he insisted.
He further defended the move noting that it was in good faith and not a result of a political witch-hunt. However, he adamantly declined to respond to the question of the number of police officers attached to the former president describing it as confidential.
In addition, Koome confirmed that the security detail of former First Lady Mama Ngina Kenyatta was still intact contrary to withdrawal reports circulated on Friday, February 2.
"The former First Lady has security, not just the former first lady, even our late two former Presidents, we secure their premises. We respect those offices, we provide security," Koome stated.
READ:Dagoretti North, Kasarani Residents want Lawyer Danstan Omari to be their next MP
Additionally, the IG addressed concerns about the withdrawal of the security detail attached to former Interior Cabinet Secretary Fred Matiang'i, and Principal Secretary Karanja Kibicho.
He noted that the changes were aimed at rationalizing security deployment in the country to ensure the fair distribution of security personnel.
According to him, it would be unfair if the former government officials were left to retain the same number of security personnel in their retirement yet the current officials were in need of protection in their operations.
He gave his asserted the government's commitment to ensuring security for the former government officials and the nation at large without discrimination.
"We have put strategies in place to make sure Kenyans continue to enjoy peace and calm in the country. That is the mandate we are going to discharge without fear or favour, to ensure there is law and order and the country is safe and secure," he noted.